Peps6-CaptoVIR kit
Description :
The Peps6-CaptoVIR kit performs viral capture in most samples. It includes magnetic beads coated with Peps6 and a set of buffers specially developed to insure an optimal capture of viruses. The sample is diluted with the buffers according to the kit instructions then the Peps6 beads are added. After a short incubation with agitation, the supernatant is removed while the bead-bound viruses are held down by a magnet (not supplied). Viruses are then concentrated on the beads and free of potential inhibitors. They can be analyzed with usual detection methods. The shelf life for this product is 2 years at 2-8°C. This product is available in 50 or 100 test format.
---
Reference : MP10042-100T
Quantity : 100 tests
Price : 839 € HT
Composition :
1 mL of Peps6 magnetic beads (Ref: MP20006-1ML)
50 mL of Buffer TAS 20X (Ref: TP10002-50ML)
1 vial of Additive FS 100X (Ref: TP10007-100T)
10 mL of Solvent FS (Ref: TP10008-10ML)
50 mL of Buffer CV-1 20X (Ref: TP10011-50ML)
50 mL of Buffer GV-2 20X (Ref: TP10013-50ML)
Add to cart
---
This product is also available as :
---
Documents :
For batch-specific certificate of analysis, please contact us.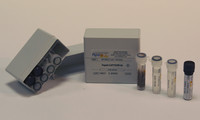 ---
<< Back to the list