ApoH-CaptoVIR kit
Description :
The ApoH-CaptoVIR kit performs viral capture in most samples. It includes magnetic beads coated with ApoH and a set of buffers specially developed to insure an optimal capture of viruses. The sample is diluted in the capture buffer then the ApoH beads are added. After a short incubation with agitation, the supernatant is removed while the bead-bound viruses are held down with a magnet (not supplied). Viruses are then concentrated on the beads and free of potential inhibitors. They can be analyzed with usual detection methods. The shelf life for this product is 2 years at 2-8°C. This product is available in 50 or 100 tests format.
---
Reference : MP10022-100T
Quantity : 100 tests
Price : 839 € HT
Composition :
1 mL of ApoH magnetic beads (Ref: MP20001-1ML)
50 mL of Buffer TAS 20X (Ref: TP10002-50ML)
1 vial of Additive FS 100X (Ref: TP10007-100T)
10 mL of Solvent FS (Ref: TP10008-10ML)
50 mL of Buffer CV-1 20X (Ref: TP10011-50ML)
50 mL of Buffer GV-2 20X (Ref: TP10013-50ML)
Add to cart
---
This product is also available as :
---
Documents :
For batch-specific certificate of analysis, please contact us.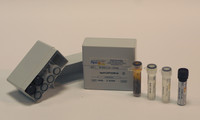 ---
<< Back to the list