Additive FS 100X
Description :
Adding Additive FS into the viral capture buffer optimizes capture yield of most viruses in blood sample. The Additive FS must be solubilized in Solvent FS before use. After solubilization, this additive is concentrated 100X. For stability reasons, Additive FS must be diluted to 1X in the capture buffer just before adding the sample. This product is sold with its solubilization solution. Unopened, the shelf life for this product is 5 years at 2-8°C. After solubilization, the Additive FS is stable for 5 years if stored at -20°C protected from light. It is available in 50 or 100 test format.
---
Reference : TP10007-100T / TP10008-10ML
Quantity : 100 tests
Price : 30 € HT
Composition :
1 vial of Additive FS 100X (Ref: TP10007-100T)
10 mL of Solvent FS (Ref: TP10008-10ML)
Add to cart
---
This product is also available as :
---
Documents :
For batch-specific certificate of analysis, please contact us.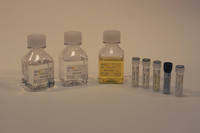 ---
<< Back to the list