ApoH microplate
Description :
The ApoH in the 96-well microtiter plate captures micro-organism antigens present in the sample, using the same principle as an ELISA test. The ApoH ELISA microplate is compatible with all usual antibody-based revelation systems. The non-supplied antibody ensures detection specificity. The shelf life for this product is 5 years at 2-8°C.
---
Reference : PQ09011-1U
Quantity : 1 unit
Price : 110 € HT
Composition :
Ready-to-use ApoH-coated microtiter plate

96-well plate

formed of

12 independent 8-well strips

C

lear plastic plate

Optimal working volume of 100 µL/well (300 µL max)

Easy-to-seal aluminium bag
Add to cart
---
Documents :
For batch-specific certificate of analysis, please contact us.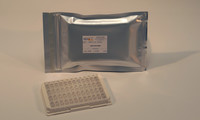 ---
<< Back to the list