Buffer TT 20X
Description :
Buffer TT is a sample dilution buffer recommended to optimize micro-organism capture in ELISA plates. This buffer can also be used to dilute specific samples (please inquire) for micro-organism capture on magnetic beads. This buffer is supplied as a 20X concentrated solution. It must be diluted to 1X with water before use The shelf life for this product is 5 years at 2-8°C. This product is available in 1 or 50 mL format. One mL of Buffer TT 20X is enough to process one plate of 96 wells.
---
Reference : TP10005-1ML
Quantity : 1 mL
Price : 12 € HT
Add to cart
---
This product is also available as :
---
Documents :
For batch-specific certificate of analysis, please contact us.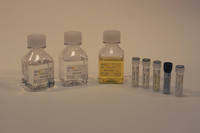 ---
<< Back to the list